The National Science and Maths Quiz (NSMQ) quarter-finals is expected to begin on Wednesday.
Already fixtures for the competition have been released. It shows the schools which performed well in the one-eighth stage.
The first quarter-final contest will be among Osei Kyeretwie, Abetifi Presby and Ghanata SHS.
Osei Kyeretwie has had an amazing run in the 2022 NSMQ contests kicking out Yaa Asantewaa at the one-eighth stage.
Abetifi Presby has also impressed with their performance right from the prelims. They ended their contest in the preliminary stage with 79 points and with 50 points in the one-eighth stage kicking out Kumasi Wesley Girls.
Ghanata SHS may not have had a great run like these schools, but they are up for the challenge. Their contest will take place on Wednesday, October 19 at 9:00 am.
The second quarter-final contest will see Mfantsipim School, Tamale SHS and St Hubert SHS battle it out for a spot in the semi-finals.
The competition will come off at 12noon on Wednesday, October 19.
The defending champions, Prempeh College, will fight against Mawuli SHS and Aburi Presby for a spot at the semis.
Mawuli has an impressive run right from prelims including handing out an exit ticket to Wesley Girls SHS at the one-eighth stage. They won with 53 points.
Aburi Presby also ended their one eight-stage contest with 47 points. The contest among these three schools will come off also on October 19 but at 3:00 pm.
On Thursday, October 20, three new sets of contests will take place.
Ghana SHS, Koforidua, St James Sem. SHS and Kumasi Sec. Tech will battle it out for a semi-final slot.
The competition will come off at 9:00 am.
Later at 12noon, Kumasi High School, St Francis Xavier and Volta-Oti NSMQ zonal champions Bishop Herman College will compete.
BIHECO kicked out Kumasi Academy with 43 points while Kumasi High kicked out rival KNUST SHS with 48 points in a close contest.
These three will battle it out for a spot in the semi-final.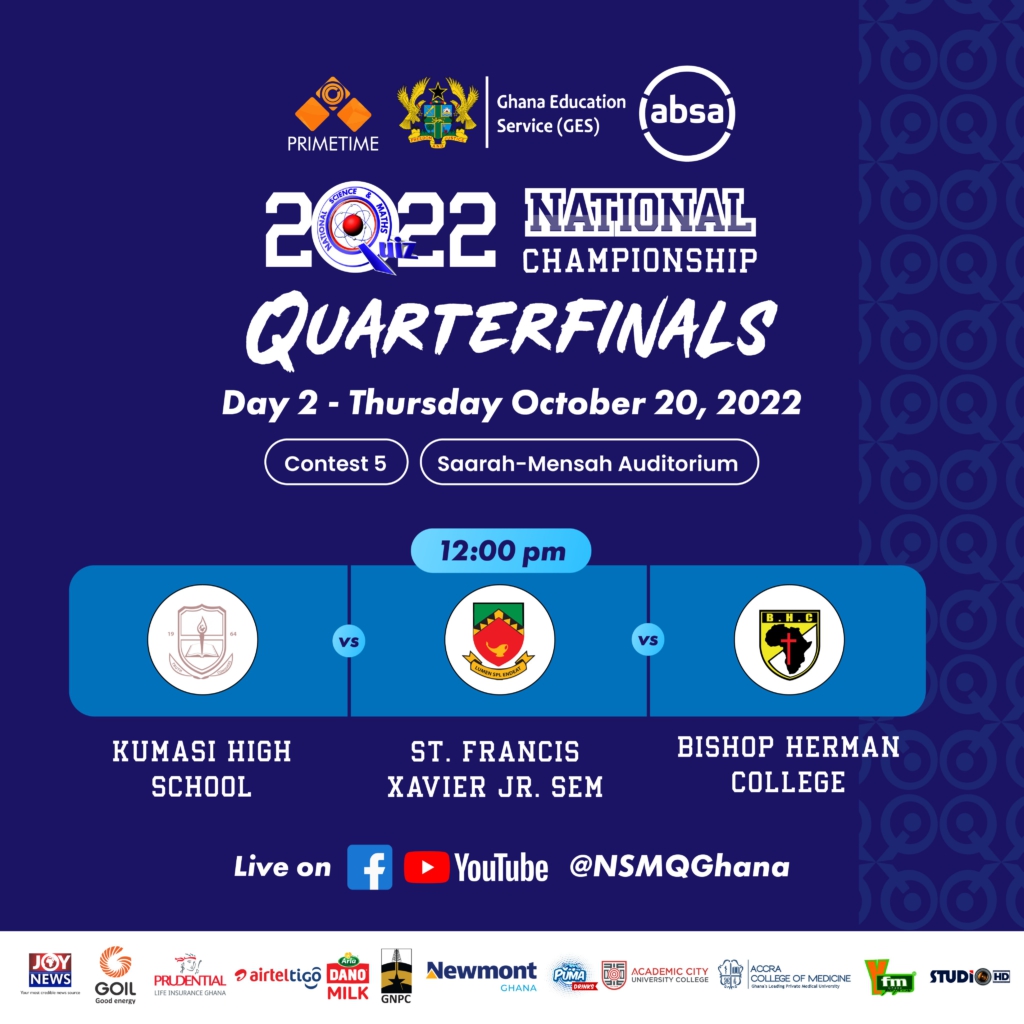 For the final contest on day two, six-time champions, PRESEC, will battle it out with Accra Academy and Pope Johns Sem. The contest is set to take place at 3:00pm. See the full quarterfinals fixtures here.