Okyenhene Osagyefuo Amoatia Ofori Panin has directed his outfit to destool Benkumhene of Asamang Tamfoe, Nana Boakye Darkwa over 'galamsey' activities.
The development follows a petition by a resident group known as Concerned Citizens of Asamang Tamfoe to the Akyem Abuakwa Traditional Council on November 9.
The residents accused the Benkumhene of engaging in illegal mining activities which cause the pollution of rivers and threatened livelihoods and farms in the community.
It followed a recent clash between illegal miners in Asamang Tamfoe and the Okyeman Environmental Taskforce on anti-'galamsey' operation which resulted in a violent exchange of gunfire.
A consequential conference was organised by the chief where he dared to face the Okyeman Environmental taskforce led by the Chief of Akyem Apapam, Osabarima Apagya Ofori IV with violence if they tried to return to the area.
On the back of this, the Akyem Abuakwa Traditional Council summoned the Chief of Asamang-Tamfoe Osabarima Kwame Koh II and the Benkumhene Nana Boakye Darkwa on November 21.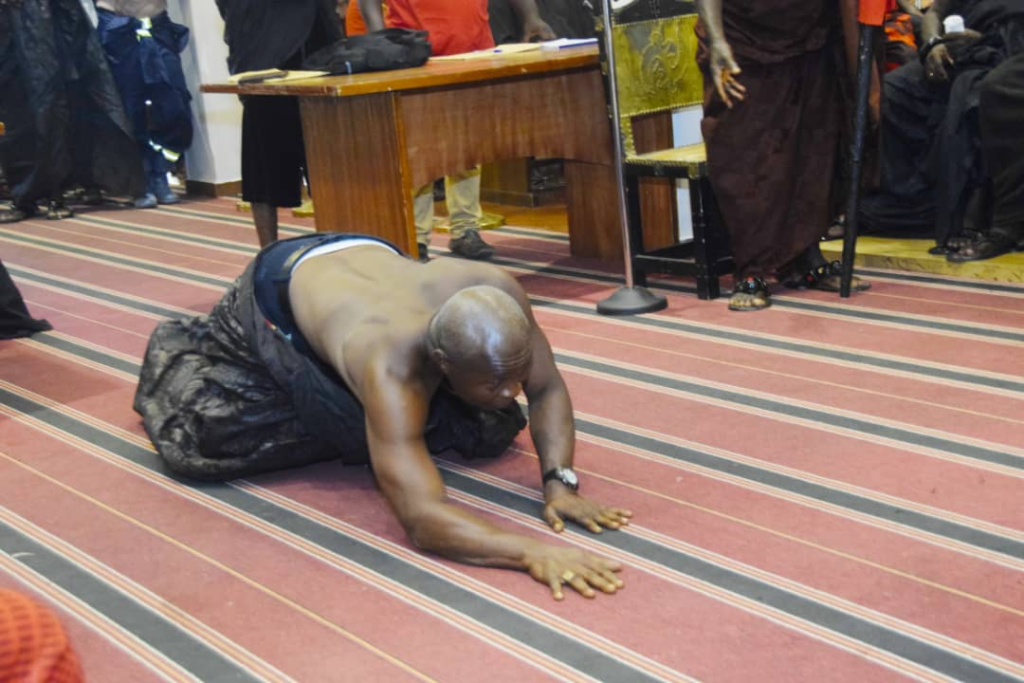 There, the Benkumhene of Asamang-Tamfoe Nana Boakye Darkwa was asked who sanctioned his October 6 press conference since the Chief of Asamang-Tamfoe Osabarima Kwame Koh II was out of the jurisdiction on that date.
He was also questioned regarding a newspaper publication in which he purportedly threatened the Okyeman Environmental Taskforce.
The Benkumhene admitted to all and laid on the ground to apologize to Okyenhene and Akyem Abuakwa Traditional Council which was chaired by the Okyenhene Osagyefuo Amoatia Ofori Panin.
Consequently, the Okyenhene ordered the removal of the Benkumhene.
Osagyefo Amoatia Oforipanin said: "You did something wrong and Okyenhene called you and you refused to come, because of 'galamsey' all our water bodies are destroyed in even Kyebi here, the same as Tamfoe, I am not interested in mining, I hate it.".
Some of the groups at the hearing were satisfied with the decision of the Akyem Abuakwa Judicial Council.
One of such personalities included the Secretary of Concerned Citizens of Asamang-Tamfoe, Ernest Osae Botah.
Mr Botah was optimistic that their concerns will be addressed after the substantive case is heard to nip the canker in the bud.
In the substantive case, it is alleged that Osabarima Kwame Koh II, the Benkumhene and his sub-chiefs are involved in illegal mining by engaging foreign nationals under the pretence of community mining.
Parts of the petition indicated that: "It is rumoured that the chief Nana Kwame Koh II, himself is part of the illegal miners and indeed on 19 October 2022, 5 excavators were sized under an operation mounted by over 25 soldiers and carried away. One of the excavators is alleged to belong to the chief."