As the world observes the UN-sanctioned International Day for the Elimination of Violence against Women, I am reminded of Nigerian musician Simi's song Woman.
In her upbeat Afrobeat song, she paints a stark depiction of the suffering of women, the struggles and prejudices they constantly have to fight to be seen, and accorded the credence they rightfully deserve.
Simi's Woman, which was beautifully constructed on the strong sounds of Fela Kuti's 'Water' juxtaposes the suffering of women; the fierce resistance they face from the mechanism of patriarchy to the indomitableness of water.
In her first verse, she establishes that women really do suffer, probably more than any other sex. And this is because women have too many enemies. In short, women are hated.
Women have enemies everywhere. Enemies from within their families, from the male sex, their peers, their workplace, from society, and even from their compatriot's sex (Yes, women hate women too, and you really can't blame them).
Misogyny hardly ever manifests openly or directly and neither is it the preserve of the male sex, as already stated above, women do hate women (not all of them though).
Misogyny is more subtle than you'll think. It starts from our worldview of women. What is a woman's place? It is fueled by our never-ending suspicion of women, the 'After God Fear Women' trope, etc. then soon graduates to full-blown acts of misogyny like rape, sexual assault, and harassment, revenge porn, etc.
Then there are the outmoded cultural practices like the cruel widowhood rites, trokosi system, female genital mutilation (Traditionally carried out by women), child marriages and witch camps, etc. These specifically target women and expose them to untold hardship and violence.
Indeed violence against women exists in varying facets; economic violence against women, physical violence against women, emotional, psychological violence against women, and neglect.
Clearly, like Simi said a woman's enjoyment is in heaven, the world game is rigged against her, big time.
But unlike women, water has no enemies. You can hate all you want, but when you're thirsty you'd surely reach for a glass of water. When a violent man kills a woman can he reach for her ghost?
Simi in her second verse further highlights the misgendering of women due to their failure to meet societal standards.
Societal standards here refer to a lack of a man in a woman's life and further, her inability to bear children. She sings;
If woman never marry oh (then she no be woman)
If woman never carry omo (she no be woman)
If she no get man for side oh
Dem go dey push woman aside oh
And eventually oh
Dem go suffer suffer woman (dem go suffer suffer woman)
No matter how barren water is, no one ever calls water sand. However, a woman is at risk of being called a man if she fails to bear children if she's 'too' assertive if she's 'too' dominant, if she refuses to perform female prescribed roles.
I actually find it ironic that a song that belabors society's depiction of women as always needing to be spun by a man was built on a man's sound.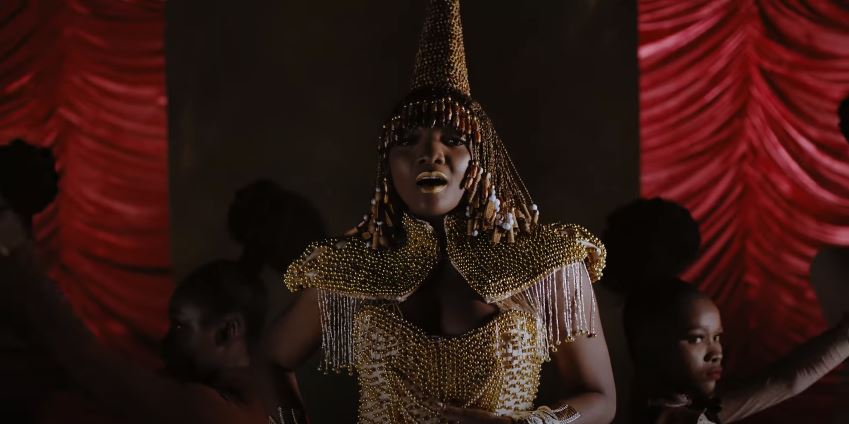 Probably, this was the musician's way of subtly driving home a point that even her ability to sing about the struggles of a woman was by kind courtesy, the support of a man.
And to be honest it isn't strange coming from a country where a woman needs to be escorted by a man to rent an apartment, and where a woman cannot post bail until it is done by a man.
But to go on talking, we'll never "talk finish".
In her third verse, she laments about society's need to have women
Na so so submission oh
Shey we get assignment?
Suffer suffer for world (amen)
Enjoy for heaven
But then people tend to turn a blind eye to the strife the so-called submission brings women. Women have submitted their ways out of million-dollar deals, thriving businesses, opportunities abroad, etc., because their partners, their male colleagues, and bosses, were feeling emasculated by their success;
But, you no pay attention oh
To the intimidation she dey face
No be like water (water, e no get enemy)
This reminds me of the Vashti – Esther tale in the Bible. So many pastors have abused the story it's sickening. Vashti didn't submit so she was sacked from the palace, Esther did, so was favoured by the King.https://04e339e716260f72b006485e089dc2db.safeframe.googlesyndication.com/safeframe/1-0-38/html/container.html
What our Pastors don't say is that King Xerxes was manipulated to drive out Vashti. The patriarchy didn't like her. And when the King realized what he had done, he was troubled by it. (Esther chapter 2).  Also, the Pastors don't say Esther, his favored, was just as assertive as his previous wife.
Did it not occur to you that that may be the reason he chose Esther out of all the other submissive, down-to-earth women? She reminded him of what he had lost with Vashti, perhaps.
In Simi's following verse she further belabours the fear of a confident and rich woman who has no man.
If woman get confidence oh (then she no be woman)
Woman get money, won "l'asewo ni" (she no be woman)
If she no get man for side oh
Dem go dey push woman aside oh
And eventually oh
Dem go suffer suffer woman.
But unlike Simi's lyrics which pass across the vulnerabilities of women and the peril they seemingly find themselves in for just being women, her pose in the video shows a defiant, assertive and confident woman.
In a style that some have likened to Beyonce's pose in her Black is King Album, Simi's militant outfit gives the impression that she didn't come to play, at all.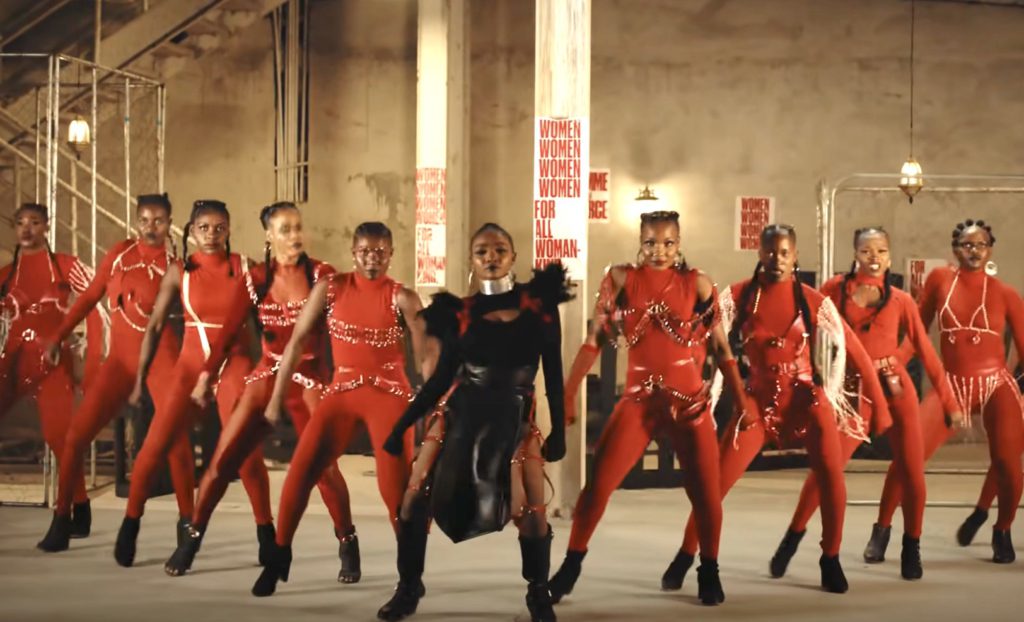 In some scenes, she's dressed like a dominatrix on a throne, in others, like a goddess adorned with pearls.
(Pearls could mean anything, from the tears of women as a result of their suffering, to the purity and holiness of women. Don't women give life?)
And in her opening scene, she's adorned in gold-colored beads. She's financially independent, please!
But in all, I take it that she's trying to say that despite the struggles and prejudices women face in society, they're willing to stick their necks out and show up to claim their rightful place in society. As she rightly puts it "nobody is like a woman".
Aluta continua, Victoria ascerta!
But as we continue to celebrate the International Day for the Elimination of Violence against Women, let us strive to eliminate our personal expressions of subtle misogyny and show up for women.